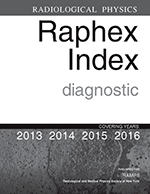 RAPHEX 2017 Diagnostic Collection: 2013-2016 with Index
Author:
RAMPS
ISBN:
rampdiag22
Published:
2017 January | Approx. 400 pages | Softcover
Price: $ 95.00



Description
A set of the previous 4 years (2013-2016) of RAPHEX Q&A Booklets with a specially prepared Index designed to help in studying for board examination or residency requirements. The 2015 Exam and Answer booklets are printed in full color. The Diagnostic Collection is an excellent resource for residents in Radiology, Radiation Oncology and Medical Physics to use as practice exams or for self study.
This book is also available as an eBook, ISBN #PHX20170124G6GW
---