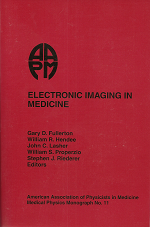 #11 Electronic Imaging in Medicine
Author:
Gary D. Fullerton, William Hendee, J. Lasher, William Properzio, Stephen Riederer, eds.
ISBN:
9780883184547
Published:
1983 | 484 pp |
Price: $ 70.00



Table of Contents
l. FUNDAMENTAL CONCEPTS
Electronic Imaging in Medicine
G. D. Fullerton, Ph.D.
Electronic Imaging Systems: Ionizing Radiation
William R. Hendee, Ph.D.
Electronic Imaging Systems: Non-Ionizing Radiation
G. D. Fullerton, Ph.D.
Specifications for Clinical Imaging
Deiter R. Enzmann, M.D.
Quantitative Assessment of Medical Imaging Systems
Robert F. Wagner, Ph.D.
II. X-RAY IMAGING
Basic Concepts of X-Ray Detection and Conversion
Bernd Conrad and Gary D. Fullerton, Ph.D.
Electro-Optical Devices for Use in Photoelectronic-Digital Radiology
Hans Roehrig, Sol Nudelman, and Tao-Yi Fu
The Role of Solid State Imaging Devices in the Future Radiography
Donald Sashin, Ph.D. and Ernest J. Sternglass, Ph.D.
III. VIDEO DEVICES
The Video Camera for Medical Imaging
John M. Sandrik
Video Requirements in Medical Imaging
Stephen J. Riederer
Video Recording Methods in Medicine
William C. Zarnstorff and Michael S. Van Lyse
Analog Storage Devices for Electronic Imaging in Medicine
M. Carlos Kennedy
Video Communication Systems in Radiology
R. G. Gould, Ph.D.
IV. DIGITAL DEVICES
Introduction to Digital Components
Edward W. Andrews
Advanced Digital Processing Systems
Paul Mengers
Digital Storage Devices for Electronic Imaging
Daniel M. Klang
V. DIGITAL IMAGING
The Digital Image System
John C. Lasher and Ralph Blumhardt
Statistical Aspects of Digital X-Ray Imaging
Norbert J. Pelc
Fundamental Concepts of Digital Image Processing
R. E. Twogood
Applications of Digital Subtraction Radiography
Ben A. Arnold, Ph.D., Harvey Eisenberg, M.D., William Barrett, Ph.D., and Paul Schiebe, Ph.D.
VI. DIGITAL IMAGE HANDLING
A Digital Image Management System
David F. Preston, Samuel J. Dwyer, III, Arch W. Templeton, William H. Anderson, Mark A. Tarlton, Kenneth S. Hensley, Denny Betz, Solomon Batnitsky, Kyo Rak Lee, Errol Levine,
Stanton J. Rosenthal, Norman L. Martin, Ralph G. Robinson, Hilton I. Price, and Joy A. Johnson
Data Storage Media in Medical Diagnostic Applications
Kalman N. Vizy, P.E.
Hardcopy Devices in Medical Imaging
James F. Dunn
VII. QUALITY ASSURANCE
Electronic Imaging in Medicine, Session VIII, Quality Assurance in Digital Radiography and Fluoroscopy: X-Ray System Evaluation
William S. Properzio, Ph.D.
QA of Image Detector Systems Non-Ionizing Radiation─Do It Right This Time
P. L. Carson, T. L. Chenevert, and J. A. Mulvaney
Quality Control of Video Components and Display Devices
Joel E. Gray, Ph.D., John Stears, R. T.(R ), and Merrill Wondrow
Quality Assurance for Computer Assisted Imaging Systems
Charles K. Showalter, John L. McCrohan, Roger L. Burkhart, and Frederick G. D. Shuman
VIII. PLANNING CONSIDERATIONS
Electronic Imaging and Its Interfaces
I. A. Mulvaney
The Costs of Benefits of Digital Electronic Image Handling
V. M. Spitzer, Ph.D.
Planning the Radiology Department of the Future
William R. Hendee, Ph.D.
---