How to Order
Via the Web
Go to the page describing the book you want to order, make sure the correct quantity is selected, and simply click on the "Add to Cart" button. You may delete books from or add books to the shopping cart at any time. When you are ready to submit your order, just click on the "submit order" button and fill out the shipping and credit card information that is requested.
Via Fax or Regular Mail
You may send your orders to:
FAX: (608) 224-5016
or
Order Department
Medical Physics Publishing
4555 Helgesen Dr
Madison WI 53718
Please be sure to include your credit card number (Visa, MasterCard, Discover or AMEX), expiration and CVV code, check or money order, complete shipping information, including street address (no Post Office boxes, please), and a phone or fax number in case we have a question about your order.
Via Telephone
Mon - Thurs: 9:00 AM to 4:00 PM
Friday: 8:00 AM to 12:00 PM
Call (800) 442-5778 or (608) 224-4508
(Central Time)
Orders generally take 3 - 5 business days for delivery within the United States. We accept Visa, MasterCard, Discover, and American Express or check/money order in U.S. dollars drawn on a U.S. bank. Wisconsin residents must add 5.5% sales tax. Price and availability are subject to change without notice.
Shipping and Handling Charges
Add 10% of total order cost for Handling. Refer to the chart below for Shipping charges within the continental U.S.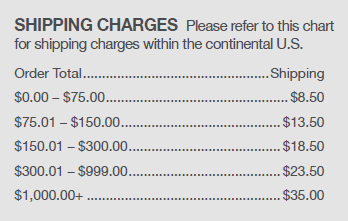 For international orders:

MPP is pleased to announce our partnership with Eurospan, a leading international distributor. Eurospan is the official distributor of Medical Physics Publishing's publications outside of North America. Eurospan will make it easier and more economical for our international customers to purchase our publications. All of our publications, except for the Raphex Exams, can be ordered from Eurospan.
Eurospan services: UK, Europe, Middle East, Africa, Asia-Pacific, Latin America, and The Caribbean
For individual orders:
https://www.eurospanbookstore.com/page/publisher-detail/medical-physics-publishing/
Tel: +44 (0)1235 465577
direct.orders@marston.co.uk
For trade orders:
Tel: +44 (0)1235 465576
trade.orders@marston.co.uk
Eurospan
Gray's Inn House
127 Clerkenwell Road
London EC1R 5DB
United Kingdom
---
Bookstores and Resellers
Please contact us for reseller terms and discounts.
Ph: 800.442.5778
Email: mpp@medicalphysics.org
---
Desk/Evaluation Policy
We provide desk/evaluation copies in two forms:
1. Hardcopy at 30% discount. If you choose to adopt the text for a course, we will reimburse the purchase price. Only one free hardcopy per department.
2. Free 90 day eBook EVAL. These are fully functional eBooks with a 90 day expiration. After 90 days if you choose to adopt the eBook for a course, we will update your eBook license to perpetual or provide 1x free hardcopy.
If you do choose to adopt the text, we would require the following information on school letterhead:
1. Course name
2. Professor name, phone, e-mail
3. Student size
4. Semester
5. Affiliated bookstore
---
Returns Policy
For Bookstores/Resellers:
Medical Physics Publishing will accept up to 50% of original invoice as returns on fully paid invoices less than 90 days old.
15% restocking fee will be charged and deducted from your credit/refund.
15% Restocking fee will be charged
Contact us for a return authorization number
Place number on outside of package, we will refuse returns without an RA#
Pack carefully, must arrive in saleable condition for refund
Books received in damaged condition will be returned at bookstore's expense
Ship prepaid at your expense
For Individuals and Institutions:
Medical Physics Publishing will accept returns on fully paid invoices less than 60 days old.
Contact us to notify us of your return
Pack carefully; must arrive in saleable condition for refund
ALL RETURNS IN PADDED MAILERS/ENVELOPES WILL BE REJECTED.
Ship prepaid at your expense


Damaged Shipment:
Return books in ORIGINAL PACKAGE/MATERIAL.
Hold for UPS pickup at no charge.
We will replace any defective books at our expense.
CDs and videos
are non-returnable except for damage or defect.
We do not give refunds or accept returns on
eBook codes
that have been redeemed.
Email or call
us with any questions for clarification of policies.