Holiday Break and Warehouse Closure
Our office and warehouse will be closed
December 23, 2023 - January 2, 2024
Web orders placed during this time (including eBooks) will not be fulfilled until January 3, 2024.
We wish everyone a joyful holiday season.
---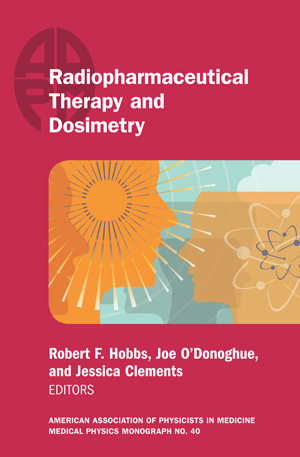 Just Published
Radiopharmaceutical Therapy and Dosimetry, AAPM Monograph No. 40
Editors: Robert F. Hobbs, Joe O'Donoghue, and Jessica Clements
Price: $130.00
Hardcover ISBN:
978-1-951134-22-8
eBook ISBN:
978-1-951134-23-5
Sample Chapter 1
[pdf format]
Radiopharmaceutical Therapy (RPT) is fast becoming a mainstream modality with the development and approval of new emitters and conjugates. Professionals from the fields of radiation oncology and nuclear medicine are expressing interest in learning the fundamentals of implementing radiopharmaceutical therapy in their clinics. While multiple efforts are underway to add more radiopharmaceutical-specific material to training programs, retrospective training of medical physicists in this discipline is a gigantic unmet need. To meet this need, the AAPM held a comprehensive summer school program in Minneapolis in 2023 on radiopharmaceutical therapy and dosimetry.
---
Now Shipping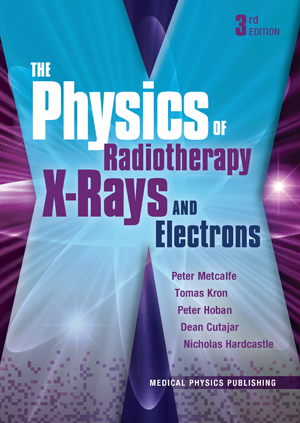 The Physics of Radiotherapy X-Rays and Electrons, 3rd Edition
By: Peter Metcalfe, Tomas Kron, Peter Hoban, Dean Cutajar, Nicholas Hardcastle
List Price $185.00
ISBN: Hardcover 978-1-951134-10-5
eBook 978-1-951134-11-2
Sample Chapter 1
[pdf format]
The long-awaited third edition of this classic text is here! The book is designed primarily as a useful reference for radiation oncology physicists, whether in training or established in their careers. The material is also intended to be accessible to radiation oncologists, dosimetrists, and radiation therapists who want a deeper understanding of the physical principles behind the technology they interact with on a daily basis.
Unlike some other texts, this book does not skimp on many key concepts. As such, it is the book many practicing medical physicists pull when they want a detailed, but understandable explanation.
The third edition is printed in full color to aid in understanding key imaging and treatment concepts. It includes an appendix with detailed answers to the many study questions asked at the end of chapters and it is also fully indexed.
In preparation for this new edition, the authors have been amazed to see so many new technological developments that are relevant for the scope of the book and that impact cancer care in general and radiotherapy in particular. Improved imaging and smarter use of images are the key drivers of many new innovations in radiation oncology covered in the book. The growth and scope of utilizing imaging also explains why two new authors with expertise in these fields have come on board, Dean Cutajar and Nicholas Hardcastle.
---
2023 RAPHEX EXAMS ARE SHIPPING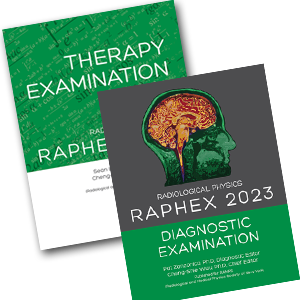 Published in cooperation with RAMPS, the Raphex Radiological Physics Examinations are designed to be useful as practice tests, advance study guides, or exams for course credit. A separate answer booklet is included with detailed explanations for the correct answer. The 2011 through 2023 exams are also available in eBook editions.
The 2015-2023 Diagnostic Exams use color images whenever possible.


---
Raphex Collections for 2023
Published in cooperation with RAMPS, the Raphex Radiological Physics Examinations are designed to be useful as practice tests, advance study guides, or exams for course credit. The Collections are a set of the past 4 years (2019-2022) of RAPHEX Q&A Booklets with a specially prepared index designed to help in studying for board examination.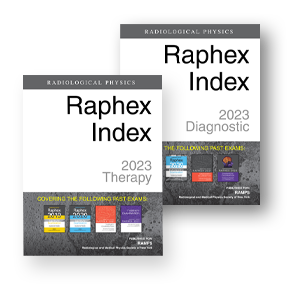 Save $25.00 to $35.00 When You Purchase a Collection!
The Therapy Collection
is an excellent resource for residents in radiology and radiation oncology to use as practice exams or for self study.
The Diagnostic Collection
is a helpful resource for residents in diagnostic radiology and radiation oncology as practice exams or for self study.
Past individual exams
and the 2023 collections are available in both eBook and print versions.
Print Version
Print Version
eBook Version
eBook Version
2002, 2003,
2005 - 2008
$110.00
$ 80.00
$ 110.00
$ 80.00
$49.95 was 150.00
---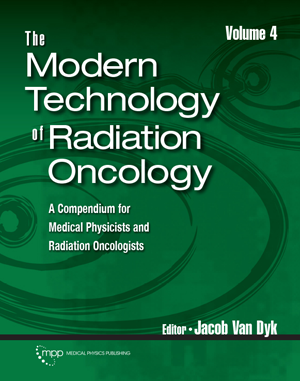 The Modern Technology of Radiation Oncology, Volume 4
Edited By: Jacob Van Dyk
List Price $175.00
ISBN: Hardcover 978-1-951134-02-0
eBook 978-1-951134-03-7
Sample Chapter 1 w/Table of Contents
[pdf format]
Once again Jacob Van Dyk has brought together an esteemed group of international experts to describe the latest radiation oncology tools and techniques in volume 4 of The Modern Technology of Radiation Oncology.
Technological advancements in radiation oncology continue at a very rapid pace. The goal of The Modern Technology of Radiation Oncology is to provide state-of-the-art information on making these technologies available in the clinic. New topics addressed in Volume 4 include: surface-guided radiation therapy (RT), PET/MRI, real-time MRI guidance, robust optimization, automated treatment planning, artificial intelligence, adaptive RT, machine learning, big data, radiomics, particle therapy RBE, nanoparticle applications, economic considerations, global medical physics activities, global access to RT, and FLASH RT. These volumes have not only been valued by medical physicists in clinical practice around the world, but also by those in residency programs and in preparation for their certification exams.
As Featured in Medical Physics International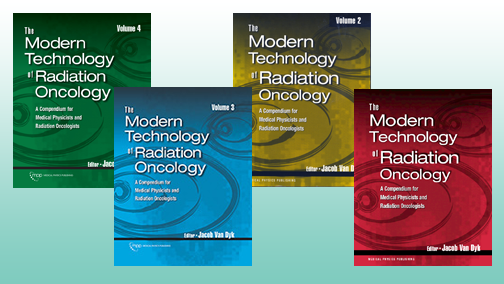 THE MODERN TECHNOLOGY OF RADIATION ONCOLOGY: A Compendium for Medical Physicists and Radiation Oncologists. Book Series
By the invitation of Medical Physics International Jacob Van Dyk has written an article presenting the newest edition of The Modern Technology of Radiation Oncology, Vol. 4 to the international medical physics community. This is not a traditional book review but an article to introduce the new edition and emphasize the advances that are the major reason for this new publication.
Read the Paper

View the Journal
---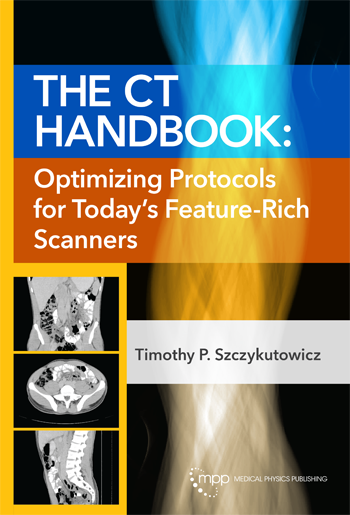 Best Seller!
The CT Handbook:
Optimizing Protocols for Today's Feature-Rich Scanners
Author: Timothy P. Szczykutowicz
Price $165.00
ISBN: Hardcover 978-0-944838-53-2
eBook 978-0-944838-57-0
Sample Chapter 1 w/Table of Contents
[pdf format]
The target audiences for this book are practicing radiologists, medical physicists, and technologists. The topics covered reflect the day-to-day needs of supporting a CT scanner from the perspective of a CT protocol optimization team.
A realization of Medical Physics 3.0 must involve an appreciation of the administrative, clinical, and technical sides of CT imaging. Since the author treats all of these facets in the book, it embodies the mission of Medical Physics 3.0 for CT.
The text doesn't shy away from comparing features from different vendors. Providing vendor-specific information allows one to gain real-world insight into MDCT scanner reconstruction and AEC operation.
Special Features Include:
Over 300 example artifact images.
Multiple chapters with guidance on setting up protocols.
---