Available January 29, 2018!
A Primer on Theory and Operation of Linear Accelerators in Radiation Therapy, 3rd Edition
C. J. Karzmark and Robert J. Morton (Edited by James Lamb)
price $40.00
Free Shipping on All Preorders.
(A savings of $9.00 - U.S. orders only)
ISBN: soft cover 978-1-930524-96-5
eBook 978-1-930524-97-2
This short introductory book provides an overview of the components of the linear accelerator and how they function and interrelate. The auxiliary systems necessary to maintain the operation of the linac are also described. Ideal for students. The 3rd edition has been formatted for ease of reading including illustrations.

Since its first appearance, this book has become a classic. Many just refer to it as "the little purple book" or "the Karzmark book." This third edition takes into account the significant advances occurring in radiotherapy linacs since the second edition was published in 1998. Again, the level of treating these advances is simplified so that the audience of radiation therapists-as well as physicians, engineers, and physicists-can benefit.
---
RAPHEX 2018 Collections
Published in cooperation with RAMPS, the Raphex Radiological Physics Examinations are designed to be useful as practice tests, advance study guides, or exams for course credit. The Collections are a set of the previous 4 years (2013-2016) of RAPHEX Q&A Booklets with a specially prepared Index designed to help in studying for board examination.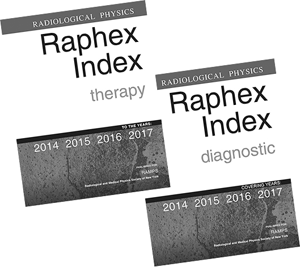 Save $25.00 When You Purchase a Collection!
The Therapy Collection
is an excellent resource for residents in radiology and radiation oncology to use as practice exams or for self study.
The Diagnostic Collection
is an excellent resource for residents in diagnostic radiology and radiation oncology to use as practice exams or for self study.
New Features:
The 2015, 2016 & 2017 Diagnostic Exam and Answer booklets are printed in full color.
Individual Exams and the 2018 Collections are available in eBook versions.
Print Version
Print Version
eBook Version
eBook Version
2002, 2003,
2005 - 2008
$ 95.00
$ 75.00
$ 75.00
$ 75.00
$49.95 was 150.00
---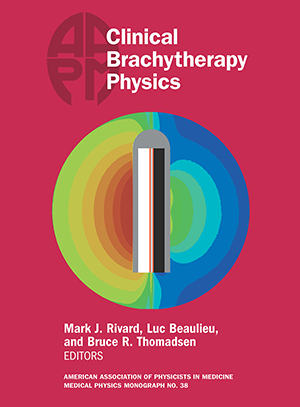 Just Published
Clinical Brachytherapy Physics, AAPM Monograph No. 38
Editors: Mark J. Rivard, Luc Beaulieu, and Bruce R. Thomadsen
$110.00
Hardcover ISBN:
978-1-936366-57-6
eBook ISBN:
978-1-936366-58-3
AAPM's latest book on brachytherapy in modern clinics. Learn what is new in treatment planning, technology, and techniques from the world's leading researchers and clinicians. This book includes chapters on:
HDR and LDR brachytherapy for the prostate
General planning and model-based dose calculation algorithms
Intensity-modulated brachytherapy
Electronic brachytherapy sources and techniques
Brachytherapy advances for skin, gynecological, and breast cancer
Plus the latest on promising new technologies in their early stages of development.
Read a "Free Chapter" for a sampling of the contents in this new edition!
---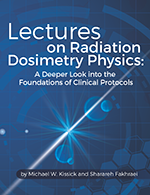 Now Shipping!!
Lectures on Radiation Dosimetry Physics: A Deeper Look into the Foundations of Clinical Protocols
Authors: Michael W. Kissick and Sharareh Fakhraei
$50.00
Softcover ISBN:
978-1-930524-92-7
eBook ISBN:
978-1-930524-93-4
Looking for a book that will deepen your knowledge about the particle interaction physics hidden inside radiation dosimetry protocols like TG-51 or its predecessor, TG-21? Unlike a cumbersome textbook with more overhead than insight, this nimble text distills actual lectures from a leading medical physics graduate program. In fact, the University of Wisconsin course this book is based on was previously taught by Frank Herbert Attix and Thomas Rockwell Mackie, legends whose insights are still found in these pages, refined and added to by the authors. After reading and studying this book, you will feel that even routine clinical tasks will remind you of the deep historical physics breakthroughs of generations of physicists who got us where we are today.

Read a "Sample Chapter" for a sampling of the contents in this new edition!



---
How good are your contours?
NEW StructSureTM Software from Standard Imaging
The first quality assurance software for the contouring of structures.
Validate, commission and perform QA on auto-contouring systems
Evaluate, educate and train professionals in the art of contouring
Ensure that contours for your treatment plan exceed your specific standards

---