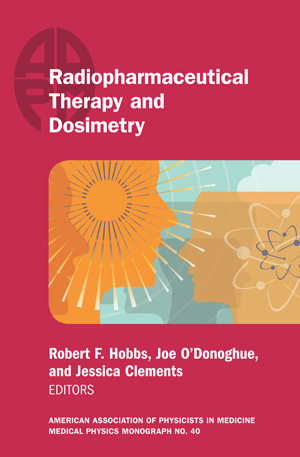 #40 Radiopharmaceutical Therapy and Dosimetry
Author:
Editors: Robert F. Hobbs, Joe O' Donoghue, and Jessica Clements
ISBN:
9781951134228
Published:
June 2023 | 436 pp | Hardcover
Price: $ 130.00




Description
Sample Chapter 1
[pdf format]
Radiopharmaceutical Therapy (RPT) is fast becoming a mainstream modality with the development and approval of new emitters and conjugates. Professionals from the fields of radiation oncology and nuclear medicine are expressing interest in learning the fundamentals of implementing radiopharmaceutical therapy in their clinics. While multiple efforts are underway to add more radiopharmaceutical-specific material to training programs, retrospective training of medical physicists in this discipline is a gigantic unmet need. To meet this need, the AAPM held a comprehensive summer school program in Minneapolis in 2023 on radiopharmaceutical therapy and dosimetry.
These summer school proceedings cover all aspects of RPT, from a comprehensive list of currently approved radiopharmaceuticals and their uses to post-treatment patient release criteria. The program placed a special emphasis on the state of the art in voxelized and organ-level dosimetry for RPT. Presenters gave a description of how RPT could adopt patient-specific, dosimetry-based treatment planning in the near future instead of relying upon a one-size-fits-all dosing approach.
Many of the world's leading authorities in RPT have contributed chapters for this book. Their insights will be referred to and valued for years to come.
Also available as an eBook,
ISBN: 9781951134235.
---