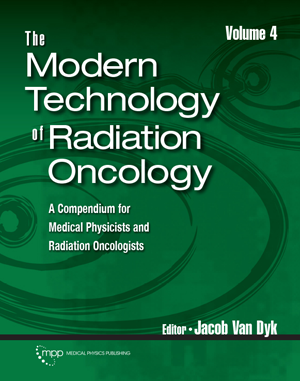 The Modern Technology of Radiation Oncology, Vol 4
Author:
Jacob Van Dyk, Editor
ISBN:
9781951134020
Published:
2020 September | 522 | Hardcover
Price: $ 175.00



Description
Sample Chapter 1, Technology Evolution in Radiation Oncology: the Rapid Pace Continues. [pdf format]
High praise continues to come in for the 4th volume of Jake Van Dyk's The Modern Technology of Radiation Oncology. From Peter Metcalfe in Physical and Engineering Sciences in Medicine…
"Thank goodness medical physics has Jacob Van Dyk. Like Tiger Woods and Phil Mickelson in golf, his textbooks continue to make major comebacks. He has managed to assemble the most talented among us to sustain the up-to-date knowledge that is essential to our profession. Reference knowledge from this textbook will help ensure the medical physics profession is at the cutting edge of cancer research and clinical treatment. This textbook has taken pride of place on my bookshelf, right next to my most treasured Porsche magazines. I could not give it a higher accolade than that."
From Rajesh A. Kinhikar in Journal of Medical Physics… "This resourceful book has aimed to serve as a comprehensive textbook for the practicing radiotherapy professionals. I would like to congratulate the authors and the Editor for such a high?quality scientific feast and strongly recommend the fourth volume of The Modern Technology of Radiation Oncology to the clinical medical physicists and radiation oncology professionals involved with the rapidly evolving radiotherapy."
New topics addressed in volume 4 include surface-guided radiation therapy (RT), PET/MRI, real-time MRI guidance, robust optimization, automated treatment planning, artificial intelligence, adaptive RT, machine learning, big data, radiomics, particle therapy RBE, nanoparticle applications, economic considerations, global medical physics activities, global access to RT, and FLASH RT.
The volumes in this series have not only been valued by medical physicists and radiation oncologists in clinical practice around the world, but have also provided an important learning resource for residency programs, radiation technologists, dosimetrists, research students, biomedical engineers, and ancillary professionals related with radiotherapy. Administrators and scientists affiliated with the practice of radiation therapy will also find this book a useful resource.
Read the Paper

View the Journal
This book is also available as an eBook, ISBN #9781951134037



---