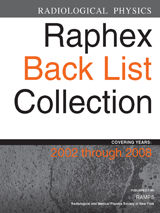 RAPHEX Back List Collection: 2002, 2003, 2005-2008 Price Reduced!
Author:
RAMPS
ISBN:
697478459494
Published:
2002 to 2008 | 6 Exams | Softcover
Price: $ 49.95 List Price 150.00



Description
A set of our back list of Raphex Exam Questions and Answers from 2002 through 2008 (The 2004 exam is not included in the set). The collection comes with a specially prepared Index designed to help in studying for board examination. Each exam covers therapy, diagnostic and general subjects. The Collection is an excellent resource for residents in radiology and radiation oncology to use as practice exams or for self study. The General Physics portion is also a great resource for ABR Part 1 physics.
---