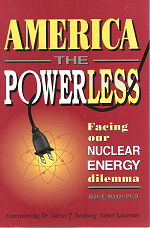 America the Powerless Price Reduced!
Author:
Alan Waltar
ISBN:
9780944838587
ISBN10:
0944838588
Published:
1995 | 236 pp | Softcover
OUT OF PRINT



Table of Contents
Forward
Preface
Ch1 So What's the Big Fuss All about?
A sobering look ahead
Ch2 But What about the things I Hear?
Influence of the Mass Media
Ch3 Choice, Choices, Choices
The Electricity Alternatives
Ch4 Radiation - The Invisible Enigma
A Perspective on an Age-Old Presence
Ch5 After Chernobyl? You've Got to be Kidding!
A Candid Look at Reactor Safety
Ch6 Not in My Backyard
The Nuclear Waste Dilemma
Ch7 No More Bombs, Please
Proliferation and Terrorism
Ch8 I Don't want to Take Chances
A Responsible Look at Risk
Ch9 But I'm an Environmentalist
Our Stewardship of Planet Earth Reexamined
Ch10 I'll Wait and See
The Ethics of Choosing Not to Choose
Glossary
Notes
Index
---