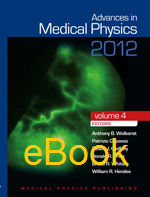 Advances in Medical Physics: 2012
Author:
Anthony B. Wolbarst, Patrizio Capasso, Devon J. Godfrey, Ronald R. Price, Bruce R. Whiting, William R. Hendee, Editors
ISBN:
9781930524767
Published:
2012 June | ISSN: 2156-2008 | 330 pp | eBook
Price: $ 115.00



Table of Contents
Volume 4
Preface
Contributors
Contents of AMP-2006 Volume 1
Contents of AMP-2008 Volume 2
Contents of AMP-2010 Volume 3
1 Imaging in Modern Radiation Oncology
John F. Gleason, Jr., M.D., Ulrich Langer, Ph.D., and Ronald C. McGarry, M.D., Ph.D.
2 Recent Developments in Fluoroscopic Imaging Systems for Interventional Procedures
Barry Belanger, Ph.D.
3 Fluoroscopy System Acceptance and Quality Control Testing
Beth A. Schueler, Ph.D. and Kenneth A. Fetterly, Ph.D.
4 Advances in CT
Thomas G. Flohr, Ph.D. and Bernhard T. Schmidt, Ph.D.
5 Computed Tomography (CT) Scan Acquisition Settings: Trade-Offs Among Speed, Resolution, and Dose
James M. Kofler, Ph.D.
6 New Dosimetric Concepts and Measurement Methods in Computed Tomography
Robert L. Dixon, Ph.D., John M. Boone, Ph.D., and Richard L. Morin, Ph.D.
7 An Approach to Assessing Stochastic Radiogenic Risk in Medical Imaging
Anthony B. Wolbarst, Ph.D. and William R. Hendee, Ph.D.
Reprinted originally as "An approach to assessing stochastic radiogenic risk in medical imaging," Med Phys 38(12):1–5, © 2011. Reprinted with permission from the American Association of Physicists in Medicine (AAPM).
8 Recent Progress in Positron Emission Tomography for Small-Animal Imaging
Simon R. Cherry, Ph.D.
9 Molecular Imaging and Tomography with Near-Infrared Fluorescence
Eva M. Sevick-Muraca, Ph.D.
10 Diffusion Tensor Imaging: Neuroscience Applications
David Powell, Ph.D. and Charles Smith, M.S.E.E., M.D.
11 Current Issues in MRI Safety
Michael C. Steckner, Ph.D., M.B.A.
12 Developments in Ultra-High-Field MRI
Adam W. Anderson, Ph.D. and John C. Gore, Ph.D.
13 Recent Advances in Ultrasonic Imaging and Ultrasonic Imaging Technology
Jeremy J. Dahl, Ph.D. and Gregg E. Trahey, Ph.D.
14 2D and 3D Data Acquisition in Ultrasound
James A. Zagzebski, Ph.D.
15 The AAPM in Service to the Medical Physics Community
J. Anthony Seibert, Ph.D.
16 The Role of the Conference of Radiation Control Program Directors (CRCPD) in Radiation Protection in the United States
John P. Winston, Ruth E. McBurney, C.H.P., Jennifer Elee, Earl Fordham, C.H.P., Adela Salame-Alfie, Ph.D., and Mary Ann Spohrer
17 Medical Exposures to Ionizing Radiation: Important Developments Since NCRP Report No. 160
David Schauer, Sc.D., C.H.P., Jerrold T. Bushberg, Ph.D., Stephen Balter, Ph.D., and James A. Brink, M.D.
18 Radioactive Materials Regulatory Programs for Protection of Public, Workers, and Environment and for Security to Prevent Malevolent Use
Steven C. Collins, M.S. and Charles Simmons, M.S., J.D.
19 Consequences of a Nuclear Detonation
John MacKinney and Dr. John Mercier, COL (Ret.), PMP
20 Risk Communication: Principles, Strategies, Tools, and Applications
Vincent T. Covello, Ph.D.
---