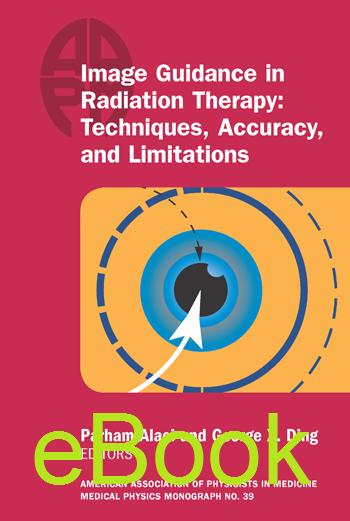 #39 Image Guidance in Radiation Therapy: Techniques, Accuracy, and Limitations, 2018 Summer School, eBook
Author:
Parham Alaei, George Ding
ISBN:
9781936366637
Published:
July 2018 | 406 pp | eBook
Price: $ 120.00



Description
Sample Chapter 1
[pdf format]
This 2018 AAPM summer school book covers all the important aspects of current IGRT techniques used in clinics, as well as some emerging technologies that may become available in the future. Reviewers have high praise for the book's editors and world-renowned contributors.
From Doody's Reviews…
"It was genuinely enjoyable to read this book and to have it as a reference for routine clinical, educational, and research needs. It is a must-have for trainees preparing for ABR board exams. To the best of my knowledge, there is not an equivalent or comparable book on the market that is as clear, current, or complete. I highly recommend this book to all medical physicists."
From Taoran Li in Medical Physics…
"This is definitely a much-needed book, as IGRT has become standard practice in our field, but we had not seen a comprehensive summary based on up-to-date technologies, until the arrival of this book."
Image-guided radiation therapy (IGRT) has been used since the inception of radiation treatment, but its usage became routine with the development of gantry-mounted cone-beam CT systems in the early 21st century. IGRT is now the norm in the clinics equipped with modern radiation therapy delivery systems. All patients undergoing radiation therapy benefit from this widely available technology, as it enables more accurate delivery of radiation to the intended targets.
Since IGRT is a confluence of radiation therapy and imaging physics, many of the topics covered here focus on the application of imaging physics in therapy. Although the majority of image-guidance devices use ionizing radiation, the imaging modalities that use non-ionizing radiation are also included here.
This book provides an overview of the state-of-the-art image-guidance techniques employed in radiotherapy, and it provides necessary information to medical physicists who would like to know about current image guidance techniques and modalities.
This book is also available in Hardcover, ISBN #9781936366620
About the Editors
Parham Alaei is a Professor and the Director of Medical Physics at the Department of Radiation Oncology at the University of Minnesota. He has practiced and taught medical physics for over 20 years and has served on many AAPM committees. His recent research interest has been on image guidance in radiation therapy, including quantification of its dose, with a focus on kilovoltage imaging.
George Ding is a Professor of Radiation Oncology at Vanderbilt University. A professed nature lover, he feels very fortunate to have learned from the scientists on the cutting edge of research while doing his Ph.D. He helped develop the Monte Carlo user code, BEAM, at the National Research Council of Canada. His main research interests include dosimetry in radiotherapy and imaging dose to patients from imaging guidance procedures.



---