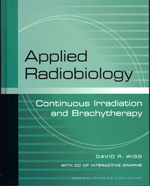 Applied Radiobiology: Continuous Irradiation and Brachytherapy Price Reduced!
Author:
David Wigg
ISBN:
9781930524392
Published:
2008 | 288 pp. | Hardcover
OUT OF PRINT




Table of Contents
CHAPTER 1 BASIC RADIOBIOLOGY OF CONTINUOUS IRRADIATION
1.1 History
1.2 A Relationship Between Fractionated Treatment and Biologically Effective Dose
1.3 A Relationship Between Continuous and Fractionated Radiotherapy
1.4 Similarities and Differences Between Continuous and Fractionated Treatment
1.5 Repair Between Fractions of HDR Irradiation
1.6 Repair During LDR Continuous Irradiation
1.7 Alternative Interpretations of Repair Half-times
1.8 The Derivation of Repair Half-time Values
1.9 Means of Predicting the Biological Effect of Continuous and Fractionated Irradiation under Conditions when Repair May Be Incomplete
1.10 Continuous LDR Predictions
1.11 Pulsed Brachytherapy
1.12 Fractionated Radiotherapy Combined with Continuous Irradiation
1.13 Summation of Two Schedules of Continuous Irradiation
1.14 Summary
CHAPTER 2 THERAPEUTIC GAIN MODELS FOR CONTINUOUS IRRADIATION
2.1 Introduction
2.2 Therapeutic Gain Models, Always Treating to Tolerance
2.3 Therapeutic Gain Models, Treating to a Fixed Total Dose
2.4 Derivation of Isoeffective Tolerance Doses of Continuous Irradiation when Treating Late-reacting Tissues
2.5 Examples of the Use of Therapeutic Gain Equations Treating to Tolerance
2.6 Comparison of Therapeutic Gain Models Treating to Tolerance and Treating to a Fixed Total Dose
2.7 General Guidelines to Factors Determining Therapeutic Gain Using Continuous Irradiation
2.8 Therapeutic Gain or Loss with Distance from a Source of Continuous Irradiation
2.9 Continuous Irradiation Using Permanent Implants
2.10 Fractionated HDR Irradiations
2.11 Summary
CHAPTER 3 PERMANENT SEED IMPLANTS
3.1 Introduction
3.2 Derivation of the Permanent Seed Implant Model
3.3 Comparison of 103Pd and 125I Implants for a Typical Squamous Cell Carcinoma, Prostate Cancer, and Cancers of Varying Radiosensitivity
3.4 131Cs Seeds
3.5 Summary
CHAPTER 4 PROPERTIES OF SMALL-VOLUME TUMORS AND SUBCLINICAL DISEASE
4.1 Subclinical and Small-Volume Tumors
4.2 Tumor Size and Cell Numbers
4.3 Steepness of Dose-Response Curves with Small-Volume Disease
4.4 The Importance of Correctly Defining the Planning Target Volume (PTV) for Subclinical Disease
4.5 Inadequate Margins at the Edge of a Macroscopic Tumor
4.6 Patient and Organ Motion
4.7 Error in Judging the Dimensions of the Clinical Target Volume (CTV)
4.8 Risks of Untreated Small Volumes with Brachytherapy
4.9 The Change in TCP with Tumor Size and Stage
4.10 Summary
CHAPTER 5 DOSE AND DOSE-VOLUME INHOMOGENEITIES
5.1 Mean Dose, Dose, and the Effective D0 (D0eff ) Dose
5.2 Alternative to Mean Dose, D0 , and D0eff Dose
5.3 The EUD Model
5.4 The gEUD Model
5.5 EUD Models for Tumors
5.6 Which Dose To Use?
5.7 EUD Calculations for Fractionated and Continuous Irradiation and for Permanent Seed Implants
5.8 Examples of Calculation of EUD for Fractionated, Continuous Irradiation, and Permanent Seed Implants
5.9 Isodose/Isobars
CHAPTER 6 TISSUE ARCHITECTURE AND ITS EFFECT ON NORMAL TISSUE AND TUMOR RESPONSE TO IRRADIATION
6.1 Critical Volume and Critical Element Models
6.2 Serial Architecture
6.3 Parallel Architecture
6.4 Combined Serial and Parallel Architecture
6.5 The Relative Seriality Model
CHAPTER 7 3-D VOLUME EFFECTS
7.1 The Problem of Hot and Cold Spots
7.2 Prostate Carcinoma Parameters
7.3 The Delta-TCP Concept
7.4 Combined Brachytherapy and External Beam Treatments
CHAPTER 8 GUIDELINES TO THE USE OF THE MODELS ON THE CD
8.1 Guidelines to the Use of Figure FDFVEST and Figure HYPCOIST
8.2 Guidelines to the Use of Figure 1.3 (GYGY2S2)
8.3 Guidelines to the Use of Figure LQ5PRO
8.4 Guidelines to the Use of Figure CONEXTAS
8.5 Guidelines to the Use of Figure CONEX7Bt
8.6 Two Useful Models for General Application
8.7 Guidelines to the Use of RECTIMQUADC
8.8 Guidelines to the Use of Figure TGPA3B
8.9 Guidelines to the Use of Figure TGALTORCONT
8.10 Guidelines to the Use of Figure KI2RECIPIOD
8.11 Guidelines to the Use of K12FIG35
8.12 Guidelines to the Use of EFFDOS
8.13 Guidelines to the Use of EUGENAB
8.14 Guidelines to the Use of EUDALBETA
8.15 Guidelines to the Use of HOBFRCONSEAB
8.16 Guidelines to the Use of the Relative Seriality Dose-Volume Model KALABR
APPENDIX A MATHEMATICAL APPENDIX
APPENDIX B TABLES OF PARAMETER VALUES
GLOSSARY
REFERENCES
INDEX
THE BIOEFFECT SOFTWARE
---